Class Track's Marketing 101 FAQs
Created for blended learning classrooms!
Resources in the Class Track provide 'consistent variety', an oxymoron indeed, but it is what meets the teacher's and student's needs for both predictability and fun!  

Brain Building Lessons provide unique methods of introducing new material and graphic organizers, a proven and effective method for teaching, help students retention rates soar! 

Marketing101

 can be used as your main resource for 8 units of instruction: economics, business, marketing, product, place, price, promotion, and personal selling. The course features WEBS, graphic organizers, designed to help students understand and retain these 8 units of instruction! 

These and other related educational strategies add variety and technology to marketing education, not to mention the online course holds so much potential to leverage teacher's time by saving hours upon hours of time spent planning and grading.

The Class Track engages students at a higher level based on the rigorous and effectively sequenced content.

Order enrollment for your high school marketing class today.  Order Form

More details below ...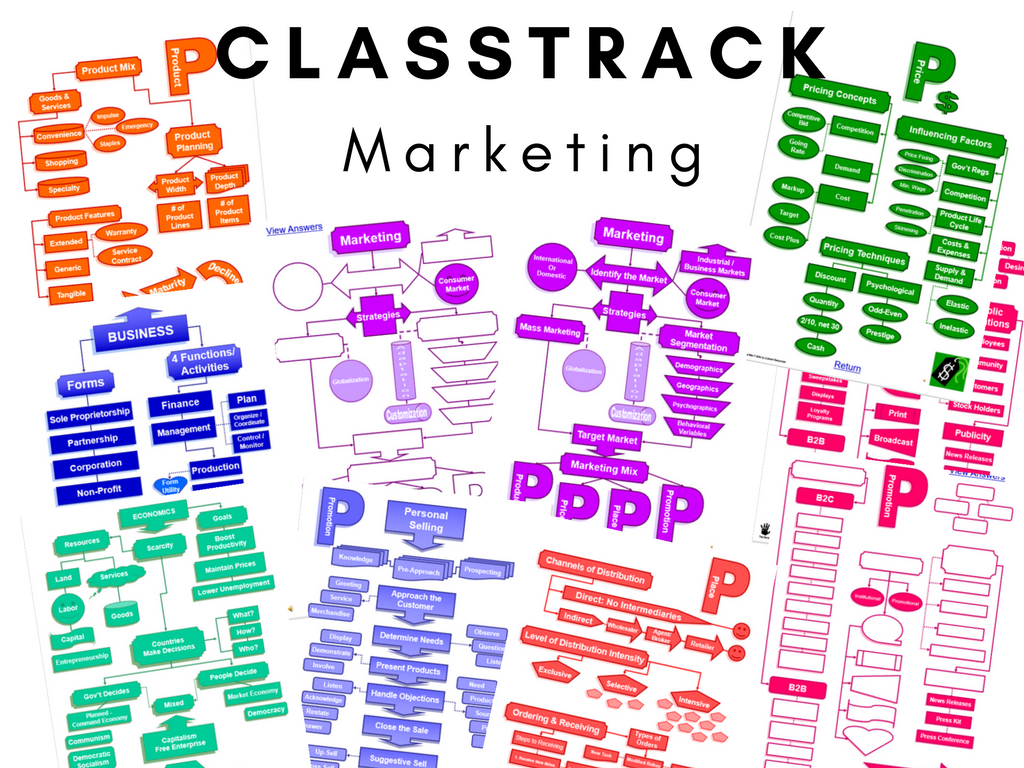 Brain Building Lessons and Projects for the teacher-led classroom and online leverages teacher's time, and makes CU's Class Track fun and effective!
A Blended Course for a High School Marketing Class - Providing Foundational Knowledge of 8 Units. (See all the Learning Outcomes.)
Economics
Business
Marketing
Product
Place
Price
Promotion
Personal Selling
The graphic organizers, aka WEBS, help students see 200 terms come together as they learn new concepts throughout the course. The strategy of graphically connecting concepts to new information helps students understand and retain new material and transfer it to a test, competitive event, or to the world of work or entrepreneurship.
_________________________________________________________________________
Watch the CLASS Track Highlights >
_________________________________________________________________________
How can an order for enrollment be placed?
Submit the Order Form with payment or a purchase order. 
You may also visit CustomResources.com to order online and pay by credit card.
What if our school has multiple teachers who will use CU's CLASS TRACK?
If each teacher would like to see only his/her students' activities and grades in CU for convenience and efficiency, Custom Resources will enroll each teacher and his/her students separately. This will require each teacher completes the CU Enrollment Spreadsheet with his/her students listed. There is an additional admin fee per separate group enrolled within a school. See item CU-SE for this convenient option.
Additional advisors over the allocated number may be added to a school's CU enrollment. See CU's order form for this option. 
When does enrollment open?
Student enrollment opens in mid August and will be available, for the Class Track, through June each year.
How does enrollment work?
Enrollment spreadsheets are emailed out each year by Custom Resources. When ready, the teacher completes the fields within the spreadsheet (teacher's contact info and email, students' names) saves the spreadsheet, and then emails it to cu@customresources.com.
Once the completed spreadsheet has been received by Custom Resources, students' accounts are created usually within 1-3 business days. However, it may take up to 5 business days during peak enrollment times. 
Teachers will receive an email confirmation once all accounts are ready.
Are teachers given access to the CLASS TRACK in the summer for planning?
Teachers who have ordered prior to August 1 of each year will be given access in early to mid-August depending on summer enhancements and the time needed to complete those upgrades and enhancements by the CU Team. 
Can students be substituted?
Only during the initial 15-days following a group's enrollment, may teachers make substitutions to their enrolled student accounts. After the 15-day grace period students' accounts are locked in and may not be substituted.
What is the refund policy?
If a teacher is not satisfied with the Class Track or is unable to use it, a refund will be given for the purchase price less an admin fee noted in the terms on the enrollment spreadsheet and user agreement. Custom Resources, LLC must be notified in writing, via email, within 15 days of the student's enrollment date. After the 15 day period, no refunds will be issued.
No credit will be issued from one year to the next year.
What technology is required to maximize use of Competition University's Class Track?
Good stable Internet connection is required. 
Pop-Up Blockers must be disabled.
Some resources within CU contain audio so headphones will be useful for classroom management